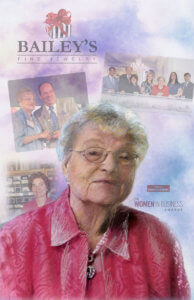 Ann W. Bailey, possibly the first female business owner in Nash County, has persevered and succeeded in challenging circumstances. At 92, she continues to be a pioneer and role model for her family, friends, and community.
At eight years old, after both her parents passed away, Mrs. Bailey was sent from her home in Nash County to the Oxford Orphanage. However, she always considered this area her home and returned after finishing her education at Atlantic Christian College.
In 1948, she and her husband, Clyde C. Bailey, Sr., co-founded Bailey's Jewelry in downtown Rocky Mount where she worked while raising two children. After 15 years in business, Mr. Bailey died, making Mrs. Bailey, at 36, the sole owner and operator of the company. Mrs. Bailey, with her hardworking, never-give-up attitude, overcame many obstacles, obstacles which many thought would surely make her fail. To doubters, her response was simply, "They do not know this girl!" She worked at Bailey's Jewelry six days a week and did the books on Sunday afternoons after church. Today, along with her children Clyde, Jr., and Cindy, Mrs. Bailey – also known as "Mama Ann" -has expanded Bailey's to four locations in North Carolina over the course of almost seventy years.
Among her many accolades, Mrs. Bailey was honored in April 2017 with the "Triangle Business Journal's Women in Business Award." In true "Mama Ann" style, her two-minute, simple but powerful, acceptance speech received two standing ovations from a young, enthusiastic audience. She also was featured in "Our State Magazine" in December of 2014.
Finally, her Christian faith has always been important to her. She is a charter member of Edgemont Baptist Church and is a member of The Eastern Star.
Inducted in 2017