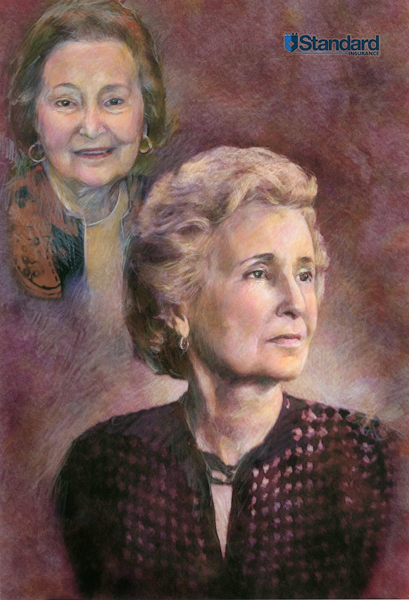 A Rocky Mount native, Betsy began her professional career as a biology teacher after graduating from Rocky Mount High School and Woman's College in Greensboro (UNC Greensboro). She taught in Wilson and Durham counties before moving home to Rocky Mount with her husband. Although an educator, she is being recognized for her contribution to this community and beyond.
After her husband's untimely death, she went to work at Standard Insurance and Realty and was Chairwoman of the board until 1984.
Betsy was a founding member, organist, and choir director for ten years at St. Andrew's Episcopal Church in Rocky Mount. She served as president of the Churchwomen, chairmen of the Meals on Wheels program, and served several terms on the vestry.
She has served on the boards of numerous organizations including the Rocky Mount Arts Center, Braswell Memorial Library, Carolina Gateway Partnership, the Rocky Mount Children's Museum, the Coastal Plain Heart Association, Nash General Hospital, and the Rocky Mount Junior Guild.
Betsy did not limit her volunteer time just to local organizations. She was the president of the class of 1948 at UNC G and received their Alumni Award in 1998 after serving on the UNC Greensboro Alumni Board and Excellence Foundation.
Back at home Betsy was the first woman to be president of the Rocky Mount Chamber of Commerce and the first female member of the Rocky Mount Kiwanis Club placing her in the history of the area as an outstanding female leader. In business, she also served on the Board of Peoples Bank and Trust and later Centura Bank.
Ms. Strandberg is also active with North Carolina Wesleyan College. She has been President of the board of Visitors, Chair of 'A Day for Wesleyan', as well as numerous fund drives for the college, including for the Dunn Center. Betsy served on the Board of Directors, and on the Arts Series and Outsider Arts Committees.
For over half a century Betsy has served the community and organizations of Rocky Mount. Betsy has three children, seven grandchildren, and three great grandchildren with one on the way.
Inducted in 2018