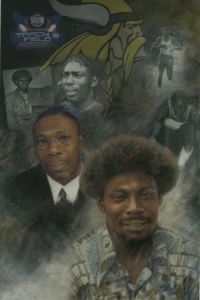 Edgecombe County native Carter Ray Suggs, the son of William and Catherine Suggs, grew up in Tarboro and attended Tarboro High School. Back in the 1970s when he was a student, Tarboro did not have a track and the student athletes performed in a field behind the school. That didn't stop Carter from setting state records and tying national records.
In 1973 and 1974 he led the Tarboro track team to state championships. He ran the 100 yard dash in 9.3 seconds beating the state record by three tenths of a second and tying the national record at that time. His relay team broke the state record for the 220 yard relay. His accomplishments let to him being second in the High School Athlete of the Year by Track and Field News.
A joint resolution from the NC General Assembly in 1973 honored Carter as "one of the outstanding native sons" of the state:
he has compiled innumerable records while competing in track meets both at home and abroad
as a result of these fine achievements, he has received many accolades including that of being chosen a high school All-American by "Scholastic Magazine"
has brought great honor to the State of North Carolina having received 142 scholarships including offers from Yale University, Ohio State University, the University of Michigan and the University of Texas;
Carter competed in international junior meets for the 100 and 200 meter races and he won three gold medals in the Junior Olympics in Moscow. . In 1974 in his senior year he won the 100 meter in 9.5, set another state record for the 220, competed in the long jump and set a state record in the 4 x 440 relay. He also won national meets in Florida and Iowa.
This successful sprinter then attended East Carolina University and in 1975 he won five events at the Southern Conference outdoor championships. During his college career, he earned several Southern Conference titles and set new school records in track as a Pirate.
His senior year at ECU, Carter shattered his knee in a basketball game ending his career in track. After graduating from ECU, he became a teacher back in his home county. He taught at both North Edgecombe and Tarboro High School, and gave back to his community by working with special needs students.
In 2013 Carter Suggs was inducted into the East Carolina Athletes Hall of Fame. Last year he was inducted into the first class of the Tarboro High Hall of Fame. We lossed Carter in 2012.
Inducted 2016
Deceased