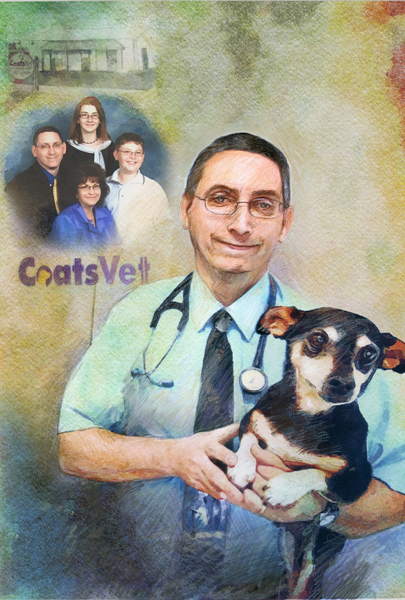 Dr. Charles Marshall Coats, a long-time veterinarian in the Rocky Mount area, took the motto "You may be the only Jesus people see" to heart, supporting his community as a philanthropist and fisher of men.
Dr. Coats graduated from the North Carolina State University School of Veterinary Medicine and worked in Southern Pines before starting his own veterinary practice, Coats Veterinary Hospital, in Rocky Mount in 1997.
Through his business, he touched many lives with donations to St. Jude Children's Hospital, Feed the Children, Bible Broadcast Network, Cystic Fibrosis Association, American Diabetes Association, American Cancer Society, Relay For Life, The Pregnancy Center, and World Vision, Animal Fund.
Known throughout the community for his "Go to Church" banner, faithfully unfurled each Saturday afternoon, Dr. Coats used the donations from his rabies clinic to support United Community Ministries, My Sister's House, Bassett Center and Spring Hope Elementary School. He led devotions at South Village and Spring Arbor, was a Sunday School teacher, lay evangelist, and started a non-profit mission for Christ to reach people for the Lord called Christian People Renewed.
A devoted animal lover, he also rescued animals at local shelters and donated bird feeders and aquariums at Spring Arbor. He enjoyed mountain and fishing trips with his family, as well as gardening and farming at home with his goats and chickens.
Dr. Coats is survived by his wife of 20 years, Beth Browning Coats, two children, three sisters and many nieces and nephews.
Deceased
Inducted in 2018