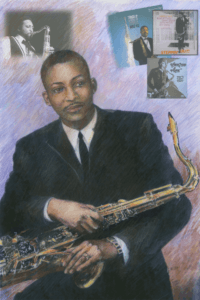 The nomination form identified Harold Vick as a saxophonist, flutist, and composer, but this Rocky Mount native accomplished so much more in his 51 years. The son of Alice Vick, Harold Vick grew up on Raleigh Road. When Harold was 13, his uncle Prince Robinson, a musician that performed with Duke Ellington, Roy Eldrige and Louis Armstrong, gave Harold his first clarinet.
Soon Harold was performing at the Annie W. Holland school and later at Booker T. Washington High School under the guidance of Mr. Charles Wood, the band director. Vick performed in the band and played sports while maintaining a high grade average.
Vick then attended Howard University in Washington where he played with the orchestra at the Howard Theater. Majoring in psychology and sociology, Vick continued his love of music outside of school and began playing sax in rhythm and blues bands. In 1961 he had his first recording, and just two years later he produced his first album. For the next two decades Harold Vick recorded a dozen albums and he performed with many other talented artists including Billy Taylor, Dizzy Gillespie, Aretha Franklin, Sarah Vaughn and Ray Charles to name just a few.
He performed in several theater productions and was in films as well as producing the soundtracks. He was part of the Negro Ensemble Company, the Black Experience Family Repertory. He performed with Lena Horne in "The Lady and her Music." He composed the music for the film An Even Chance and played part of the Cotton Club. He composed the soundtracks of "Stardust Memories," "She's Gotta Have It" and "Busting Loose," and was the featured soloist in School Daze.
Harold Vick was awarded a grant from the National Endowment for the Arts to create and arrange his own compositions for a jazz orchestra. Vick died in 1987 of a heart attack, but his legacy continued. His fans and jazz enthusiast created the Harold Vick Scholarship Fund and an annual concert for local talented students. In 1998 Sonny Rollins recorded a tribute to our local musician called "Did you See Harold Vick?"
Inducted 2016
Deceased