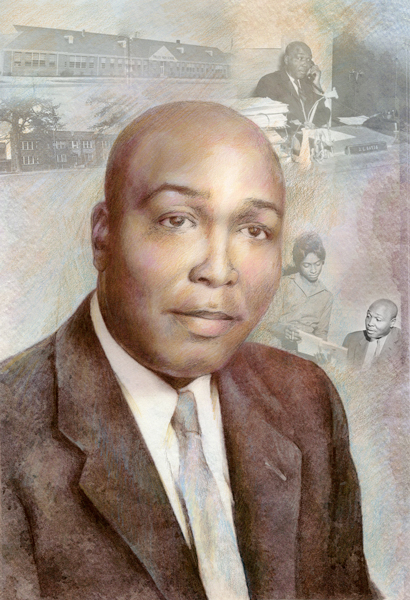 Educator, soldier, and community leader, Rocky Mount native James Erastus Batts began his teaching career at Elk Park School in Avery County, NC. In 1941, he accepted a teaching and coaching position at Pattillo High School in Tarboro. His tenure there was interrupted when he joined the Army in 1941. He served in the European Theatre where he participated in the famous "Battle of the Bulge." Having risen to the rank of Master Sergeant, he was honorably discharged on October 21, 1945, whereupon he returned to his old job at Pattillo High.
Two years later he was appointed as the first Principal of the Conetoe High School, a newly established black high school in what had been an all-white school. So began Principal Batts' challenging career, a career that included the Jim Crow era in the 1940s and 1950s and integration in the 1960s and early 1970s.
He used his leadership and reputation in the community during an extremely racially charged period to bridge relationships that enabled transitions and changes in a peaceful and orderly way. The best interests of his students were always at the forefront of his actions and advocacy.
In 1959, Mr. Batts became the Principal of Phillips High School. There he continued to be a leader, helping students stay in school, taking money out of his pocket to help students with financial needs, including college tuition. He is celebrated by many for his caring concern for students in their quest for education and a better life.
He worked with the Tarboro Redevelopment Commission to help improve housing for low-income citizens. As chair of the Commission he helped to secure funding and to provide exposure to the area's housing needs and deficiencies. The Panola Heights community of east Tarboro was just one of the areas that benefited from his work.
For over 30 years, Mr. Batts provided leadership, guidance, dedication and concern for African American youth. He instilled a determination to live by his mottos: "Work hard in spite of the circumstances", "Be Somebody", and remember that "Nothing Succeeds Like Success."
Mr. Batts left a legacy of a positive impact on his students because of the moral, honest, devoted, and loyal character he exemplified. His life of service continues to influence alumni to give back and to help others pursue education.
Deceased
Inducted in 2018