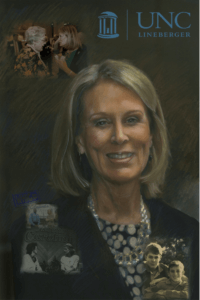 Jean Almand Kitchin is TV personality, community leader and cheerleader, successful business person, educator, and non-profit fund raiser.
Jean Almand Kitchin moved to Rocky Mount in 1986, following a successful TV career as producer & anchor of "Good Morning, Carolina" on WWAY-TV, the ABC affiliate in Wilmington.  Jean quickly volunteered to host a regular program, "Tar Heel People," for an independent TV station just starting in Rocky Mount.  Thus, began her career as Rocky Mount's longest running hometown and mostly volunteer TV anchor, a career that is still going strong after 30 years!  "Tar Heel People" is now carried on 5 stations throughout North Carolina. She also provided local entertainment for our area on "Carolina Cooking," which ran on the cable for 10 years, hosted a cooking show for UNC TV, and is currently hosting a weekly show for WHIG TV, "Around Town with Jean Almand."
In 1990 Jean ran for the newly created Nash-Rocky Mount Board of Education and served on that board for 9 years, including a term as the chairman. Also, in 2000, she served as the Chairman of the Rocky Mount Chamber of Commerce, the second woman ever to hold that position.
Her alma mater, UNC Chapel Hill, has also tapped into her leadership skills through her service on the UNC Board of Trustees for 8 years, including 2 years as the vice chairman; as Chairman of the UNC General Alumni Association; and currently for 2 years as the Chairman of the UNC Lineberger Board of Visitors. Locally she is on the Nash UNC Health Care Board of Commissioners.   Jean's passion has been to use her networks formed through service at UNC to help many people get specialized care in times of need.
Over the years, several non-profits have sought Jean's help. One such effort led to designing and hosting an annual telethon for the "Christian Fellowship Home for Men," that rescued the home. In spring of 2016, Jean helped the United Way Tar River Region develop the "Tar River Chef Showcase" that raised $27,000 of new money.
Jean and her husband Hodge have one daughter and two sons.
Induced 2016