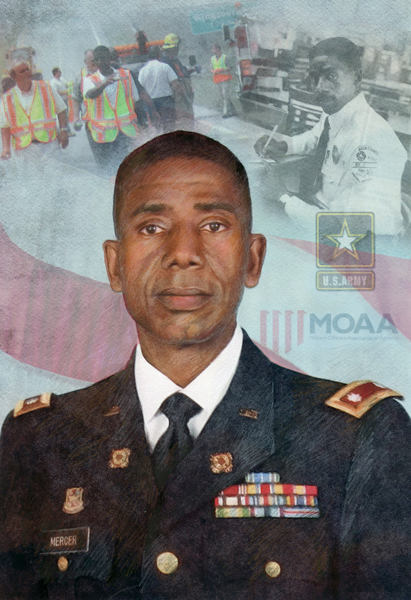 Lt. Col. James A. Mercer, US Army (Ret.), a native of the Twin County area, has spent his life as a dedicated public servant and community leader, enriching the lives of his fellow citizens through his actions and example.
Lt. Col. Mercer was born in Edgecombe County and raised in Nash County. He served 35 years with the military, in the U.S. Army, the U.S. Army Reserve and the North Carolina National Guard. In addition, he retired with 29 years of public service as a firefighter, police officer, emergency medical technician, fire inspector, fire marshal and emergency manager.
With a passion for high school and college sports, Lt. Col. Mercer also has served locally as a high school and college basketball and football referee for the past twenty years.
Lt. Col Mercer is currently serving as the Director of Military Studies at N.C. Wesleyan College and also helps coordinates the Army Reserve Officers' Training Corps (ROTC) program for North Carolina Wesleyan College. As a staunch advocate for American military veterans, he and his family founded The Mercer Foundation, Inc., a non-profit to provide services to homeless veterans and to feed disadvantaged children in Nash and Edgecombe Counties. He serves on the Board of Trustees at Nash Community College and the Deacon Board at Thornes Chapel Missionary Baptist Church.
He is a lifetime member of the Veterans of Foreign Wars (VFW), Disabled American Veterans (DAV), American Legion, and National Association of Black Veterans (NABVETS). Lt. Col. Mercer is also a Master Mason, Shriner, and a lifetime member of Omega Psi Phi fraternity.
Lt. Col. Mercer is married to Delois Mercer and has one son and four daughters.
Inducted in 2018