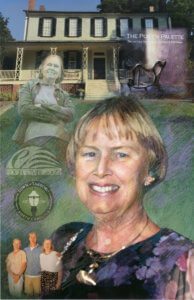 Meade Bridgers Horne was born in Durham, North Carolina, in 1940. Her father, a native of Tarboro and a Navy man, would bring Meade to Tarboro to visit. The family's travels instilled a love of the arts and its history. Mrs. Horne attended high school at The Madeira School in McLean, VA, and graduated with a Bachelor of Arts in Greek from Vassar College and a Master's in Arts and Classics from Johns Hopkins University.
In her early career, Mrs. Horne was a researcher for a Byzantine scholar and later became a letter writer for United States President Lyndon B. Johnson. Following, Mrs. Horne would found Edgecombe ARTS and spent over two decades bringing various forms of culture to Edgecombe County through her work at the Arts Council. As director of the Arts Council, she created displays at the Blount Bridgers House Museum, sharing her family items to help tell the story of Edgecombe County. She also helped found the Great Tarboro Bazaar, an annual art show, and sale, and wrote "The Poet's Palette," a biography of local artist Hobson Pittman.
Mrs. Horne was instrumental in establishing the Happening on the Common, an arts and music event, now in its forty-fifth year. In a newspaper article, Mrs. Horne remarked, "Being the director [at the Blount Bridgers House] has given me a chance to utilize everything I've learned over the years. My mission is to help preserve and promote the cultural heritage of Edgecombe County. We're rich and so many people don't even realize it. Every day is like Christmas. I never know what's going to happen."
Mrs. Horne was a member of Preservation North Carolina, the Federation of North Carolina Historical Associations and was a founding member of the Phoenix Historical Society. She sang in the choir at Calvary Episcopal Church for over thirty years.
Mrs. Horne has two children: Alix Coolidge and Thomas Horne.
Inducted 2017