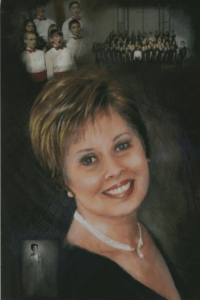 Born in Winston-Salem, NC, Patricia Johnson Gilliland attended the NC Governor's School in Choral Music before graduating from R.J. Reynolds High School where she received the Jack Krusch Memorial Award for Musical Achievement in 1967. Patsy went on to earn her BA in Voice Performance from Meredith College and her Master of Music in Voice Performance from Indiana University.
Patsy was chosen Miss North Carolina for 1969 and was a talent award winner in the Miss America Pageant.
An accomplished vocalist, Patsy has performed in operas, oratoria, musicals, concerts, radio and television. Patsy has been a soloist with the Winston-Salem Symphony, the Fort Wayne Symphony and the Tar River Philharmonic Orchestra. She has sung professionally in the United States and in Europe, Africa and Asia. While living in England, Patsy sang in concert at Royal Festival Hall and was a frequent soloist for the BBC.
A gifted teacher, Patsy has served as Director of the Tar River Children's Chorus (TRCC) from 1983 to the present. Under her direction, children in the TRCC have given concerts at Washington's National Cathedral, Charleston's Piccolo Spoleto Festival, and Williamsburg's Bruton Parish Church. The choruses have twice rated as top elementary and high school choirs at Music in the Parks in Busch Gardens. In 2013 the TRRC received gold ratings in all categories at the New York City Heritage National Choral Festival.
For 35 years Patsy has shared her musical gifts serving as teacher, mentor, and role model for young people in Edgecombe and Nash Counties.
Patsy and husband Peter are Rocky Mount residents. They have one son Matt.
Inducted 2016