Robert "Bob" Melton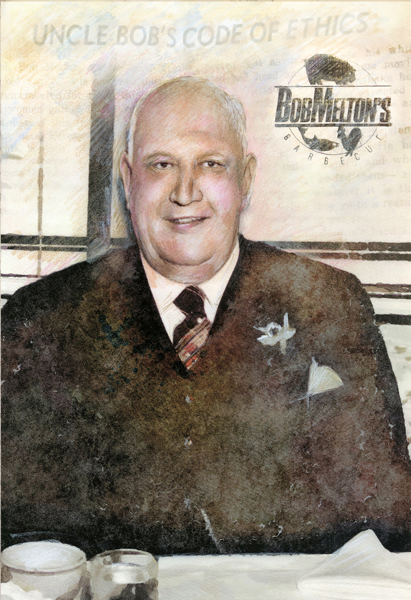 Born and raised on a Nash County farm, Bob Melton worked in various occupations, including farming, before discovering his true calling at the age of 50. Bob, who had 'been cooking' since he was 12, started selling barbecue in 1922 using outdoor cooking pits along the banks of the Tar River in Rocky Mount. His food was so popular that he built the first restaurant building two years later. This became the first indoor sit-down BBQ restaurant in North Carolina and was the only one in the east. He specialized in pit-cooked whole hog with a vinegar-based sauce and numerous sides of slaw and Brunswick stew.
Over the years Melton's Barbecue put Rocky Mount on several culinary maps calling it the "Barbecue Center of the South" and even the "Barbecue capital of the World" with Col. Bob called the "King of Southern Barbecue" by Life magazine in 1958. He was also written about in Esquire, Town and Country, and Southern Living. The restaurant had framed articles from newspapers from around the world including London and Sydney, Australia.
A modest man, Melton did not belong to any local civic organizations but he was known to contribute food or funds to various local causes. Melton was known for his personal touch, friendliness and hospitality. Melton's famous barbecue restaurant employed many locals and was a major contributor to the local economy by attracting thousands to Rocky Mount to sample his fresh cooked barbecue pork, fried chicken, or fish.
The Raleigh News and Observer featured Melton as Tar Heel of the Week in 1954. Melton died in 1958 and his business was carried on by his partners W.B. Melton, T. O. Fulghum, and Add Smith. It was Smith and his family who continued cooking barbecue on the banks of the Tar until the business was destroyed by the floods of hurricanes Fran in 1996 and Floyd in 1999.
Deceased
Inducted in 2018