Robert Henry Ricks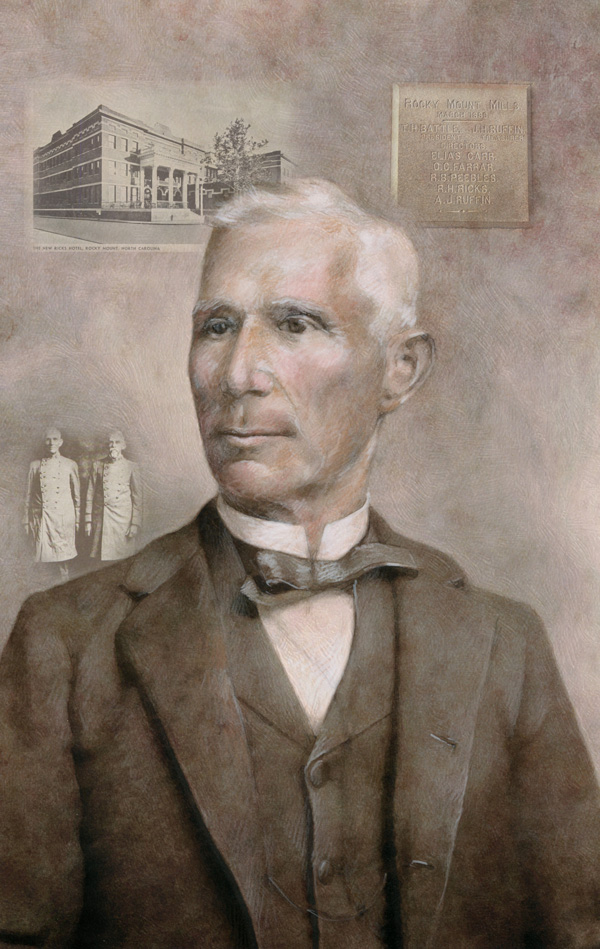 Robert Henry Ricks, farmer and capitalist, was born in the Stoney Creek section of Nash County, the son of David and Martha Vick Ricks,. His ancestor-Isaac Ricks- was one of the earliest settlers in the area who received grants of land along the Tar River in the mid 1700's. Robert Ricks attended local schools until the age of sixteen. When the Civil War broke out, he was working as a hired hand on the farm of a neighbor. He enlisted as a private and fought four long years. Upon returning home he resumed his former job and upon the death of his employer inherited a legacy worth about one thousand dollars. In December of 1874, he married the love of his life Miss Tempie Thorne, who owned and operated an adjacent farm.
Mr. Ricks was a practical farmer, farming on a large scale and pioneering the introduction of bright leaf tobacco in Eastern North Carolina. He was a temperate man in all things, plain in dress and in manner, a man who saved money and who disliked waste and extravagance. He became a leader in his community.
As his fortunes increased, Ricks branched out into business and prospered in manufacturing and banking. He was at times president of Rocky Mount Mills, partner in Thorpe & Ricks Tobacco Company, vice-president of the Bank of Rocky Mount, vice-president of the Washington Cotton Mills in Virginia. The Ricks Hotel was an important part of the Rocky Mount story.
For four years he was a member of the Nash County Board of Commissioners, he served in the State House of Representatives in 1903 and in the State Senate in 1905. Ricks was a member of the State Board of Education and of the board of directors ,of the State Penitentiary. He was one of the first Trustees of the North Carolina Agricultural and Mechanic College in Raleigh (now North Carolina State University). Ricks Hall on the campus of NCSU honors his memory.
Robert Ricks was especially gifted in associating himself with partners who were capable of running the businesses in which he invested. He was a visionary and a renaissance man who ultimately amassed an estate conservatively estimated at $1.25 million dollars. At the time of his death, he was known as having contributed significantly to making Rocky Mount the best town in the State of North Carolina.
Robert and Tempie Ricks had no children, but their estate provided for the higher education of hundreds of their decendents until 2017.
Deceased
Inducted in 2019