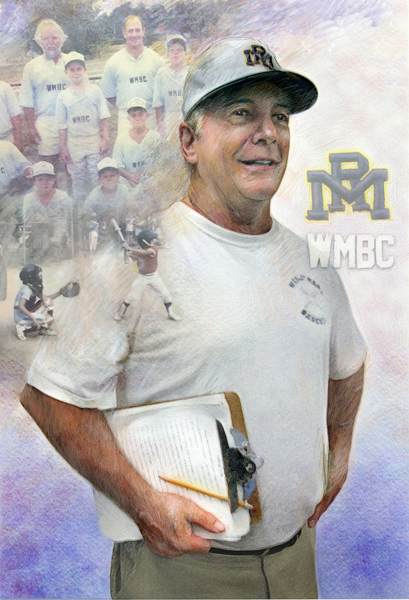 Lifelong Twin County resident Sam Toler played organized sports for 39 years, including semi-pro baseball, softball and volleyball. Sam took up coaching little league very early on and over the past 42 seasons he has led his Wesley Men's teams to a 544-210 won loss record, good for a 72% winning percentage. Though he was a good athlete, Sam is being honored tonight primarily for being a coach and mentor.
Coach Sam would often choose players who needed a helping hand. He looked for potential regardless of background. For those who needed a glove, he found one. If a youngster needed a bike to get to a game or practice he would arrange for them to get one. More often than not, he rode them back and forth in his pickup truck.
A lifetime environmentalist Sam enjoys introducing his players and parents to the outdoors he loves so much. The youth go on canoe camping trips where they learn to identify the trees along the river bank, how to build and cook over a campfire, how to spend the night 'in the woods' and be as comfortable and safe as at home. He has taken his teams on countless canoe trips where they learn how to paddle, fish and grow a respect for Nature. Many of these trips would include a history lesson about his beloved Tar River, team bonding and maybe even a trash cleanup along the waterway…usually all rolled into one!
At West Edgecombe School he participated in every level of chorus from fourth grade through graduation and has sung with the Rocky Mount Christmas Chorus for 32 consecutive years.
Sam also serves as President of the local Evening Optimist Club since 2010.
A friend said of Sam, "Every time I think of Sam Toler, I am in awe of all that he does. I am humbled by how one person can leave such a big footprint on peoples' lives and hearts."
Per Sam, "It has always been my pursuit to represent Rocky Mount and the Twin Counties to the best of my abilities."
Inducted in 2018