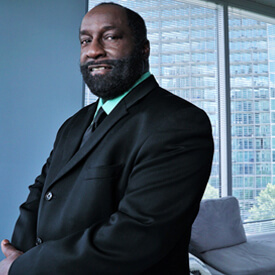 Rev. Luther Barnes, 2006 inductee of the Twin County Hall of Fame, will be awarded with another major recognition later this month: induction into the North Carolina Music Hall of Fame.
Rev. Barnes, senior pastor at Rocky Mount's Restoration Worship Center, will be inducted as acknowledgement of his career in gospel music:
From the Rocky Mount Telegram:
Well-known gospel singer the Rev. Luther Barnes will be honored at a ceremony on Oct. 18 in Kannapolis. There he will be inducted alongside other notable North Carolina musicians such as John Tesh, Chris Daughtry and The Hoppers. Once inducted, Barnes will have an exhibit at the Hall of Fame.
Barnes, who serves as senior pastor at the Restoration Worship Center on Falls Road, grew up in the Battleboro community and graduated from Northern Nash High School.
Barnes began singing at the age of nine. However, he said it was a seventh-grade teacher who first noted his talent and inspired his desire to pursue music as a goal.
"Miss Walker said she thought I had a great little voice and she would keep me in from recess to sing at the piano. I was thinking 'Why am I here singing? I need to be out playing football with the other guys.' But I ended up getting free music lessons from her," Barnes said.
In high school at Northern Nash, Barnes joined the choir and was part of a barbershop quartet.
"That was great training. Mr. Wade loved barbershop and he put me in the group as a baritone. It was a lot of fun and I learned about harmony and how to stick to my notes. I was the black guy with three white guys, but we bonded well together," Barnes said.
Though school helped form his early musical years, he also had plenty of influence at home as well. His father, Bishop F.C. (Faircloth) Barnes, was a notable gospel singer in his own right and was the composer of the gospel classic, "The Rough Side of the Mountain." Bishop Barnes, who was previously inducted into the N.C. Music Hall of Fame, served as pastor at the Red Budd Holy Church in Castalia and by the time Luther Barnes was in high school, he was directing the church choir.
After high school, Luther Barnes attended Saint Augustine's College in Raleigh and graduated with a bachelor's degree in music education. He then spent about six years teaching music in Nash County at Northern Nash and in Edgecombe County at several schools, including Phillips Elementary School.
"I chose the major because I loved music but I knew I needed to be able to fall back on teaching if my singing career didn't work out," Barnes said.
As he gained experience and exposure in the realm of gospel music, Barnes left teaching after six years to pursue music full time. He went on to become a singer, songwriter, director and record producer. He has served as lead singer with Luther Barnes and the Sunset Jubilaires and the Red Budd Gospel Choir.
Barnes, now 64, released his first major album, "See What the Lord Has Done," in 1984. Since then he has released over 28 albums and has performed with various gospel artists.
Barnes has also garnered accolades and awards along the way. In 1992, he was awarded the Gospel Music Workshop of America Award. He was nominated for a Grammy award in 2003 for the album "It's Your Time" and received a Stellar Award for the the album in 2005.
In 2006, Barnes was a nominee for the Gospel Music Association's Dove Award, received the Mississippi Gospel Award and was inducted into the the International Gospel Music Hall of Fame in Detroit.
That same year, Barnes began his preaching ministry.
"I accepted my calling to preach and began to evangelize and hold revivals," Barnes said.
In 2014, Barnes founded the Restoration Worship Center, which he describes as interdenominational. The church began meeting with 80 members at the former Four Seasons Restaurant in Rocky Mount. The church has since purchased property on Falls Road and is meeting in the former Falls Road Baptist Church.
Between singing and speaking obligations, Barnes still tries to sing for his congregation every Sunday. For him, preaching and singing are both ways to deliver the messages that he loves best.
"I primarily sing gospel music because of the message," Barnes said. "I am a religious guy and I believe in salvation and the Bible. Gospel music is all about hope and strength and love. I like the feeling it gives you when you sing gospel music. It's a spiritual thing."
As the day for the induction ceremony approaches, Barnes said he is excited about joining the N.C. Music Hall of Fame.
"It is one of the biggest honors I have received simply because it is from my home state," Barnes said. "I have been out and around and received accolades and been inducted into the Gospel Hall of Fame, but having your home state recognize your accomplishments is something special. It is also an honor to be in the same hall of fame as singers like James Taylor, Randy Travis and Shirley Caesar," he said.
Barnes said he is also looking forward to joining his father in the N.C. Music Hall of Fame as well.
"It is rare for two family members to achieve this honor, each in his own right," Barnes said.