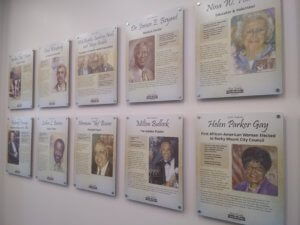 Visitors to the Grand Opening of the new Rocky Mount Event Center on Thursday, October 25th, will have an opportunity to the first to check out a new permanent exhibit featuring inductees to the Twin County Hall of Fame.
Crews are finishing up installation this week of new versions of inductee portraits, which will be located in permanently on the First Floor of the Event Center. The portraits can be found in the hallway for the Edgecombe Meeting Rooms, located on the North end of the facility and parallel to Goldleaf Street.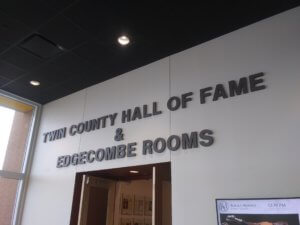 The Rocky Mount Event Center is proving successful at recruiting a wide variety of events, including youth sports tournaments, concerts and special occasions. The Grand Opening event begins Thursday, October 25th, at 4 p.m., preceded by a ribbon cutting ceremony at 3 p.m.
The Rocky Mount Event Center will host its 15th Annual Induction Banquet, featuring the Class of 2018, on Thursday, November 8th. Click Here to Learn More & Register.
Here's more on the Event Center from the Rocky Mount Telegram:
The Rocky Mount Event Center will host its grand opening at 4 p.m. Thursday.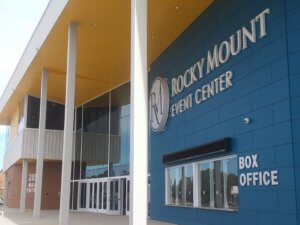 The event will feature some of the first tours of the facility along with a formal ribbon-cutting ceremony and performances by The Tams, Deep Fried Funk and a free concert by George Clinton and Parliament Funkadelic.
The grand opening ceremonies also will feature some local talent. Grammy-nominated gospel artist Luther Barnes, senior pastor of the Restoration Worship Center in Rocky Mount, will perform and the Tar River Children's Chorus Ensemble will sing the national anthem.
"We anticipate that the night of the Event Center's grand opening will be memorable," City Manager Rochelle Small-Toney said. "Adding to our excitement is the number of talented, local musicians who will perform in front of many of their family, friends and associates to commemorate the opening of the building."
The facility will host a family-friendly Halloween event, Spooktacular Oktoberfest, from 4-7 p.m. on Oct. 27, which will feature family-fun activities and special guests.
The Harlem Globetrotters will be the first main event at the Event Center at 4 p.m. Nov. 4. A few weeks later, R&B artist Keith Sweat and friends will perform at 7 p.m. Nov. 17.
Tickets for both events are on sale online at rockymountevents.com.
Another big headliner coming in April 2019 is American gospel singer, songwriter and recording artist Shirley Caesar.
The field house also has 17 contracted sporting events and several contracts being finalized. Upcoming sports events include volleyball and basketball tournaments as well as cheer, dance and gymnastic competitions. Some of the larger tournaments will bring over 300 teams to city, with the first one coming in December, said Ashley Pittman, marketing manager for the Event Center.
"Having our schedule full prior to opening has been very exciting for our team," she said. "While we are happy to be able to have banquet rooms to accommodate private parties and events as well as entertainment, our primary goal is to make a difference in the kids who have a passion for sports. We want to be able to give them opportunities to play along with lifelong memories at Rocky Mount Event Center.
"That's what we're most excited about."
Pre-bookings for private parties and events have been a success so far for the Event Center, Pittman said. Both the Nash and Edgecombe banquet rooms are slated to be occupied every weekend once the facility opens, with over 25 contracted events on the calendar.
Some of the contracted events will include the Jim Dickens First Responders Appreciation Dinner on Nov. 13, numerous corporate Christmas parties, the Alumni Ball on Thanksgiving weekend, a few weddings and many other social events.
For booking information on the meeting rooms and banquet spaces, contact Jacqueline Elder at [email protected] or [email protected]
For sports events and tournament bookings, contact Marcus Murrell at [email protected]