By Stephanie Forgue Houghtlin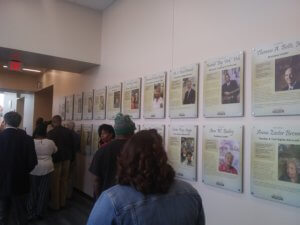 Everyone is nervous. As I visited the newly hung portraits of The Twin County Hall of Fame recipients, many asked if their hair still looked okay, were their ties straight, did their clothes look too out of date? You can't blame them, really. They know they are now gathered in the new Rocky Mount Event Center where hundreds of people at a time will be looking at them and reading about their contributions that won them their special place. It is one thing to be seen in a small area of the train station and another to be exhibited in a thoughtful and tasteful way on the walls of a fabulous new public building. I dare say they all have thought to themselves, this is the kind of thing that happens to other people, those more worthy than I that I have read about and admired.
Yet, here they all are. It will bring a tear to your eye as you pass through the receiving line greeting the recipients one at a time. The same people who tried to live their lives by making a difference and those still with us carrying on in that same tradition. It is 'meet and right' as we Episcopalians pray, to honor them in this new setting where they find themselves. They must secretly be proud because it is a first-rate, impressive presentation.
We click our heels and salute them once again.